history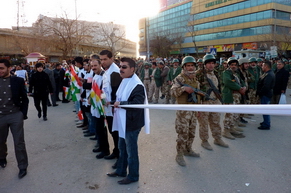 Christian Peacemaker Teams Europe (CPT)
Author: Marius van Hoogstraten
Millions of people around the world live in places where armed groups, soldiers or militias are in charge of civilians' everyday lives. Millions of others have had to leave their countries and become refugees. You often hear people say that this is just the way it is. They say the only thing we can do for these people is to send our army. But that often only makes the war worse.
New Politics
Christian Peacemaker Teams try to look for other ways. We go to violent places to work for peace with the people that live there. Instead of using weapons, we take pictures and write things down. Soldiers and other armed groups can recognize us by our hats and vests. This makes them less likely to use violence, because they know they're being watched.
We used to think this made us very special, but now we know there are local people working for peace almost everywhere, finding creative ways to resist violence or stop corporations from destroying their land. Through articles and videos, we try to make these local, grass-roots peacemakers known to an international audience. Non-violent resistance can mean many things – for example, forming a human chain  between soldiers and protesters, or just going to school or taking your sheep out, even when the army tries to stop you.
Non-violent resistance
In Canada, for example, many indigenous peoples are seeing their land and way of life threatened by large corporations. Here, CPT volunteers accompany indigenous non-violent resistance. For example, when roadblocks are put up to prevent logging companies from getting their trucks into the forest. CPT-ers also teach non-indigenous Canadians about the struggles of indigenous Canadians.
In Europe, we're concerned about the violence faced by refugees. There's almost no way to get to Europe safely, because the borders are highly militarized. This means many refugees try dangerous other ways, and thousands have died on the borders in the past years, particularly in the Mediterranean sea and between Greece and Turkey.
The story of Christian Peacemaker Teams started in 1984 at the Mennonite World Conference. The dream was to get thousands of Christians parachuting into conflict zones. We now see it was a little self-important to think that would be of any help. Nowadays, not only Christians work for CPT, and our cooperation with local groups is at the center of our work. We support grass-roots initiatives in Colombia, Palestine, Iraqi Kurdistan and Canada.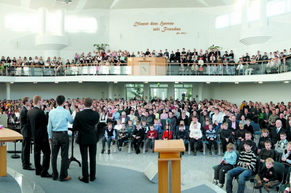 Mennonites leaving the USSR for Germany
Author: Hermann Heidebrecht
Before 1987, only a few thousands Mennonites from Russia could leave the USSR for Germany. After 1987, most emigration applications were approved by German as well as by Soviet authorities. A mass exodus occurred on a scale which had never been seen before. Several reasons existed for this escape of almost all Mennonites from the former Soviet Union.
The persecution and oppression of faith lasted almost 70 years. Christians were not only put under pressure but were also regarded as backwards.
National oppression in the Soviet Union
National oppression of Russian-born Germans who were not differentiated from Hitler's national socialists of World War II (in USSR called fascists) was also an important reason to leave the country for Mennonites and other Germans. Even though there were German schools in some regions of the Soviet Union, as well as German broadcast and German newspapers, they could not stop the gradual dissolution of the German identity in Russia.
Political and economical issues
Most Mennonites, probably, never agreed with the Soviet politics. The pain of confiscations, deportations, arrests, executions, and other sufferings of the last decades was too deep. There was hardly a Mennonite family that did not mourn over victims. The Mennonites did not trust Soviet governments and their leaders anymore. Economic conditions also played a role in emigration matters. People in cities and villages lacked almost everything. Though nobody experienced hunger, bread, butter, milk, sugar and other food often could only be obtained with big difficulties when not produced by people themselves. The same situation applied to clothing, furniture, household appliances and other articles.
Immigrant service organisations
The Mennonite emigrant service (Die Mennonitische Umsiedlerbetreuung) was  created by old Mennonite congregations in 1972 and  for many years fulfilled the function of helping the fresh arrivals with making a new start. Through the support of this organization, many locations for settlement in Germany were found, in many places regular church services could start, and new congregations could be organised. After Die Mennonitische Umsiedlerbetreuung finished its work, newly formed Mennonite congregations established their own immigrant service organization: the Aussiedler-Betreuungsdienst which took over all the aforementioned  functions. Since their foundation, both services welcomed and consulted more than 100.000 Mennonites or persons of Mennonite origin in the state border transit camps and entry points of federal states.