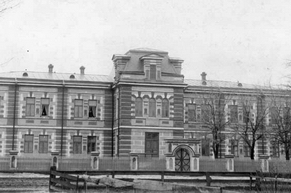 Public Charity
Author: Nataly Venger
Social projects run by the Mennonites were an example for all of Russian society on how to solve social problems in a civilized way. Providing unprecedented services for the rehabilitation of unprotected social groups, the Mennonites introduced new standards of life, that indicated the ethical maturity, humanity and economic status of their communities.
Serving the community
The Mennonites in Russia were an economically prosperous ethnic and religious group. According to Mennonite ethics, wealth was considered a responsibility. The money had to 'act' and be used for useful things. The concept of charity had a social content, related to the goal of serving the community. The financial means of the congregation were used in the running of the institutions that were called  'institutions of public charity' in Russia.
Schools, hospitals and nursing homes
The activity of the institutions was related to the social rehabilitation of the community members who needed support from the congregation. Because of a high level of intermarriage in Mennonite society, a considerable number of people were suffering from mental illnesses. By 1914 a few establishments that were important for the community had been founded. They were: 'The School for the Deaf and Mute' in Tiege, the hospital 'Bethania' for mentally ill patients and a nursing home. The running of these institutions was financially supported by the richest people of the communities. Like 'Bethania', the 'School for Deaf and Mute' was 50% paid for by private donations.
Donations
The idea for the establishment of 'Bethania' was brought up by the Ekaterinoslav congregation, which consisted of the largest Mennonite dynasties of industrialists and public figures (the Thiessens, Toews, Fasts, Ezaus and Bergmans). A charitable foundation was set up to start the project. Donations were anonymous, and the hospital fund soon reached 262.000 rubles. For people in need treatment was free of charge.
Mennonites and (non) Mennonites
The hospital was located in Alt-Kronsweide (Chortytza). It opened in March 1911, and it had treated 53 patients by December 1912. Although most patients were Mennonites, members of other ethnic groups were also given access to treatment. 'Bethania' was run by a Council, led by the famous entrepreneurs J. Suderman and J. Lepp. The fund  reached 93.514 rubles and the budget reached 37.956 rubles in 1911–1913. A year's care for one patient cost 300 rubles. Fifteen patients got free treatment. Another medical building with a laundry, and a steam boiler was built in 1915.
Photo: John A. Lapp, C. Arnold Snyder eds.: Testing Faith and Tradition. A Global Mennonite History: Europe. (Good Books, PA, 2006).