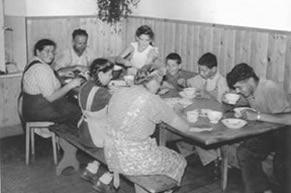 Faith in Swiss Mennonite family life, yesterday and today
Author: Nelly Gerber-Geiser
'Für Spys und Trank, für d's täglich Brot, mir danke dir, o Gott'. (For health and strength, for daily food, we give thee thanks, oh God). The table is set. The extended family has gathered, ready to eat. It is Sunday, early November, 2013. Mealtime is an opportunity for grandparents to pass on an important tradition of the faith to their grandchildren. A song is sung as table grace, which, though not known to everyone present, is acknowledged respectfully. Some present have just come in from church, one grandchild from Sunday School. Sowing the seeds of faith, and tending to the seedlings: …that the coming generation might know them… and declare them to their children, that they might set their hope in God, and not forget the works of God, but keep his commandments –  Psalm 78:6-7
Preparing Sunday
'We can no longer read the Bible and hold devotions together. Everyone leaves the house at different times.'. Those were the words of a mother in the 1960s. She continued: 'Back on the farm when I was young, we would never even consider beginning the day without meeting for morning prayers. Every evening at least 12 of us met again to hear father read from the family Bible, and to pray. It was important to our parents to pass on their faith, at home, in school, and in church'.
'As the eldest of a large family I had to work hard preparing for Sundays, shining many pairs of shoes, laying out Sunday clothes, scrubbing floors, tidying the yard, bathing younger siblings in a large tub in the kitchen, and (finally) baking the Sunday cake. Saturday smelled of soap, floor wax, Zopf  (a braided loaf baked for Sundays), cake and soup. We wanted to have as much as possible prepared for Sunday, so that we'd have time to go to church (after dinner) and to meet with relatives and church friends. Almost every Sunday dinner included guests'.
Hospitality
Hospitality was important on Anabaptist farms, not only on Sundays. When peddlers or people in need knocked at the door, they were given a hearty meal, sometimes receiving food and lodging in exchange for work. These people were all welcomed at the dinner table and were included in family activities such as singing in four-part harmony around the harmonium.