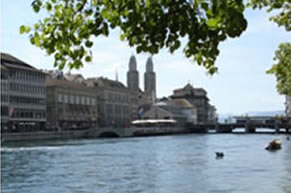 Anabaptist Tour of Switzerland
Author: Hanspeter Jecker
Tourists today often associate Switzerland with the Matterhorn, chocolate, watches and banks. But Switzerland offers more... Our Anabaptist tour begins in Basel, where Erasmus of Rotterdam published his Greek New Testament in 1516. This edition was the source text for Luther's and Zwingli's translations of the Bible, the book that gave the impetus for the entire Reformation.
Zürich
 Zürich became the centre for the transformation of church and society. Theologian Ulrich Zwingli's influence here began in 1519. Discourse quickly developed as to how extensive the reforms should be, how quickly and under whose leadership they should evolve. After 1523, Zwingli was increasingly criticised by some of his closest followers. In re-baptising adults in 1525, they broke with him definitively. In 1527 Felix Mantz was martyred by drowning in the River Limmat.
'Anabaptist cave'
 Persecution unfolded rapidly, and the Anabaptist movement retreated to the city's hinterland. Worship services were held in remote places like the "Anabaptist cave" near Hinwil . In the beginning the Anabaptist movement resembled a melting pot of frustrated individuals  disappointed by the Reformation. A rapid decision on which direction the movement should take was essential. For this purpose, Anabaptist leaders met in Schleitheim in 1527. Here 'Swiss Brethren' agreed on the principles of non-violence and voluntary church membership. In the canton of Bern the Anabaptist movement took a firm foothold. In the Emmental, the Oberaargau and the Thun region Anabaptists were quite numerous at times. Many sites still bear witness to the repression they endured, particularly the Anabaptist hiding place in Hüttengraben in Trub (with a museum) as well as Trachselwald Castle with its cells.
Jura: from refuge to 'home'
In the midst of the early migration, the remote farms of the Jura offered suitable temporary refuge. The Jura is the site of another impressive place of worship, the 'Geisskirchli' ('little goat church') cave. The temporary refuge in the Jura became home to many, however, and around 1900 numerous meetinghouses were built (e.g. Les Bulles, Moron and Jeangui, which has a permanent exhibition). Returning to Basel, we are reminded of the first Mennonite World Conference, which took place here in 1925, and of the beginnings of the European Mennonite Bible School in 1950, which is now found at the Bienenberg near Liestal.