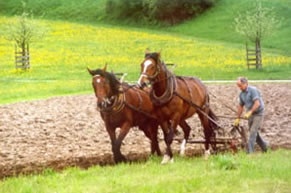 Swiss Mennonites are reputable farmers
Author: Jürg Rindlisbacher
 Farming is still very relevant in today's Swiss Mennonite communities. Only two of the 14 churches have no farming families. In some churches in the Jura mountains, e.g. Kleintal, Sonnenberg or La Chaux-d'Abel, a majority of the members either grew up or currently resides on a farm. Today's Swiss Mennonite farmers earn their living in mountainous regions predominantly from livestock or dairy, producing milk, cheese, meat, and eggs. Cereal, fruit and vegetables are primarily produced for self-sufficiency, though some also for the market. Two farms in the Basel and Neuchâtel regions produce wine.
From farming and pastoring towards industrial and social work
For more than four centuries, the words 'Swiss Mennonite' and 'farmer' were almost synonymous. Swiss Mennonites were known as hardworking, reliable farmers, cultivating their land in the Emmental and the Jura mountains. Their church communities met for worship on the farms, and their pastors were also farmers, caring for their animal and human (spiritual) herds. Since the 1950's, more and more Swiss Mennonites have changed their vocation from agricultural to industrial or social work, and their place of residence from rural to urban areas, where new churches, such as Berne and Biel were founded. This reflects a general development in Swiss agriculture. Between 1965 and 2011 the number of farms diminished by two-thirds; the farms remaining have increased in size but the families and number of employees per farm have decreased, due to mechanization and increasingly globalized markets.
Mennonite traces in agriculture and stock
Swiss Mennonites have left a considerable mark on the agriculture in their country. Both by reclaiming land in the Jura area in previous centuries when hardworking Emmental farmers settled in the woody hills, and by breeding animals such as the Montbéliard cow or the Franches-Montagnes horse. These traces may fade in the context of the current vast changes in Swiss agriculture. Cultivating mountainous regions is no longer considered economically beneficial, and the Franches-Montagnes workhorse is no longer needed. All the same, current Swiss Mennonite farmers remain committed to their profession. In November 2013, a Mennonite farmer was elected chairman of Swissherdbook, the largest cattle-breeding association of Switzerland.