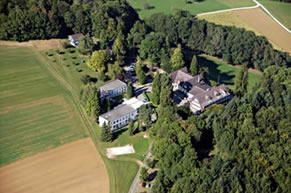 Trends, influences and expressions of faith
Author: Lukas Amstutz
A visitor to any of the 14 Swiss Mennonite churches will quickly discover that Swiss Mennonites are diverse. Worship styles and theological convictions vary not only between but also within churches. On the one hand, this diversity is rooted in a high degree of autonomy in faith and in the life issues of a congregation. Theological statements that are developed at a conference level are solely recommendations. On the other hand, a closer look at this diversity reveals many different theological and spiritual influences and trends in past and present.
Revival movements
In the 19th century, many churches were caught up in the revival movement of their time.  The Pietist seminary then founded at St. Chrischona near Basel was attended by many Mennonite leaders. Thus many churches follow a pietistical-revival tradition, which emphasises conversion, daily devotions, and moral integrity. Evangelism and (foreign) mission are a high priority, as is cooperation with the 'Evangelische Allianz' (member of World Evangelical Alliance). Less emphasis is given to conscientious objection, which in many cases has given way to a degree of conformity to the state.
New influences
After World War II, North American Mennonites brought new influences. Inspired by 16th-century Anabaptists, they valued discipleship, solidarity in the community of believers, and non-violence. To reinforce the biblical, theological and historical roots of these basic elements in the churches, the European Mennonite Bible School was founded in 1950, now the theological seminary at the Bienenberg near Liestal. Anabaptist convictions led Mennonites to lobby for a civil service, a process lasting many years, finally succeeding in 1992. Meanwhile, awareness has grown that a peace witness consists of more than just conscientious objection. Humanitarian aid is as much a part of a peace witness as is working to enable social justice or conflict resolution. This witness is frequently pursued together with church partners and others.
Faith expressions
 In several cases, charismatic faith expressions and modern forms of worship have increased. A greater emphasis is being given to a more emotional relationship with God and to trust in the Holy Spirit to move people through word and deed as well as miracles. These diverse faith expressions are all a part of current Swiss Mennonite churches. Whether they are completely detached competitors or will complement each other and modulate to a new unity in diversity is yet to be seen.