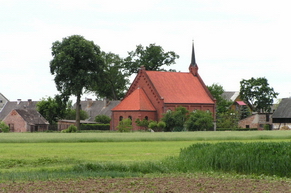 Mennonite settlements in Poland
Author: Michał Targowski
The Mennonites who migrated to Poland from the mid-16th century were mostly peasants. Their excellent skills in farming on marshy lands allowed them to settle down in low-populated areas in the delta of the Vistula river.
Choosing to live in the countryside
Although communities of  Mennonite craftsmen and merchants existed in Elbląg (Elbing) and in the suburbs of Gdańsk, most followers of Menno Simons chose to live in the country. The first Mennonite settlements were situated in the delta and valley of the lower Vistula, only a few lived at the Baltic sea coast and on the marshes of the river Noteć. In the early 17th century the Dutch organized their colony on one of the river islands which is now within the borders of Warsaw. Further development was hindered by wars until the late 18th century, when new generations of Mennonites, born in Poland, began to migrate again and to colonize new areas upstream of the Vistula and its tributaries.
Established in demanding locations with a high possibility of floods, villages settled by Mennonites had a unique form and character - wooden cottages usually built along a dike or an edge of dry land close to the marshes, the houses spaced out evenly. Fields were divided into regular long lots, perpendicular to the dike or a road and bordered by ditches. Linear villages of that type are called 'row villages'. Their design, preserved in many locations in Poland, is one of the elements of the heritage left by these immigrants.
Integrated communities
Mennonite settlements in Poland formed local groups which allowed cooperation between smaller communities. They organized common prayers and services which were attended by inhabitants of several villages. A lot was done to protect a Mennonite's farm from being seized by Catholics or Lutherans. This is why the Polish Mennonites formed close-knit communities which were able to preserve their identity and religion for a long time, at least till the time of Germanization in the 19th and 20th centuries, and sometimes even until their dramatic migration from Poland in 1945. These centuries-old Mennonite settlements include dozens of villages in Zulawy and the Lower Vistula Valley, such as Wielka Nieszawka (Nessau), Sosnówka (Schonsee), Przechówko (Wintersdorf), Mątawy (Montau), Grupa (Gruppe), Bratwin, Jezioro (Thiensdorf), Kazuń (Deutsch Kazun) and Wymyśle. There, as well as in many other places, one can still find traces of the Mennonite history, preserved in lowland landscapes, in old examples of wooden architecture or in silent cemeteries.