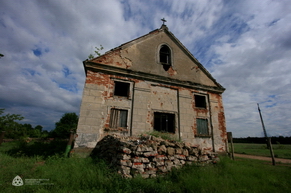 Looking for a place to stay
Author: Michał Targowski
The wish to lead a better life where they could follow their own rules and beliefs brought the Mennonites to Poland in the 16th century. In the years to come the same desire forced them many times to look for new places to live, within Poland and beyond.
Between growing intolerance and religious freedom
Mennonite migrations in Poland increased in the late 18th century, most probably because of overpopulation of their settlements and growing intolerance among a part of Polish society. Migrants went up stream of the river Vistula or went abroad. In the new places it was not always easy to stay longer. In the 1760s Mennonites from the regions of Świecie, Toruń and Grudziądz established two important settlements between Płock and Warsaw - Kazuń (Deutsch-Kazun) and Nowe Wymyśle (Deutsch-Wymysle). In this area they lived until the end of the Second World War. Another group of about 30 families migrated to the wetlands of the Noteć river near Drezdenko, a part of Brandenburg, where they built the settlements Brenkenhoffswalde and Franzthal. In 1765 these settlers received special privilege in the form of religious freedom and exemption from military service, but when Prussian authorities announced plans to end this privilege in 1834 , most of the Mennonites migrated again.
Military service
Their most important migration destinations were the territories around the river Dniepr, which in the 18th century belonged to Russia (today Ukraine). At the invitation of Catherine the Great a large group of farmers from Żuławy moved to that area and established the first colony along the Dnieper, Chortiza. In the years after that they were followed by thousands of other Mennonites who could not accept the limitations imposed upon them by the Prussian state. When Prussia finally demanded military service in 1860s , it caused the next wave of migration, this time mainly to North America.
Mennonites in Poland until 1945
Despite the massive exodus in the 18-19th century, many Mennonites stayed in Poland. But in 1945 they had to leave their homeland as well, as a result of the tragedy of the Second World War. Faced with the hardship and chaos of the end and aftermath of the war, almost all Mennonites chose to move to Western Germany, Uruguay, Paraguay, the USA and Canada.