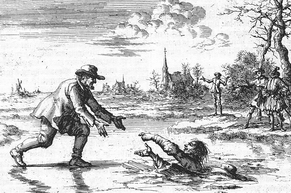 Witnesses of the Kingdom of God
Author: Fulco Y. van Hulst
What is peculiar about Dutch Mennonite ethics – and how is it made visible? The Bible passage that was very dear to Menno Simons was 1 Corinth 3:11: 'For no one can lay any other foundation than that which has been laid, which is Jesus Christ.' Christ still is the guiding light for ethics from a Mennonite perspective.
Sermon on the mount
Mennonite ethics is best characterized as "Sermon on the Mount"-ethics, or as an ethics of following Jesus as the central example of what it means to live a life that pleases God. Particular guidance is found in the sayings of Jesus in the Sermon on the Mount, as well as in his further teachings and parables. These sayings draw our attention to caring for our neighbor, especially the weak and oppressed, to the love of God that demonstrates itself in the love of others, to overcoming violence and evil and (ultimately) to loving one's enemy These are the practices that are considered to be the measures of a good life. Peace ethics should specifically be considered a characteristic element of Mennonite ethics in Dutch context. A good example would be the way in which Mennonites practiced peace ethics by actively supporting conscientious objectors who did not want to fulfill their mandatory army duty.
In the world
The Dutch Mennonite community developed largely in an urban context in close contact with the social-cultural upper class of society. These contacts were much more intensive and often much more peaceful than in other countries in Europe, where Mennonites often lived in a situation of (deliberate) isolation and even persecution and suppression. Through these contacts Dutch Mennonites were able  to spread their message of justice and peace in an active and practical way within society.
Altogether we might say that the focus in Dutch Mennonite ethics is on social ethics: the congregation is considered to be the foretaste of God's Kingdom of Justice and Peace. On the one hand Mennonite congregations try to take practical responsibility in society, by supporting diaconal projects, or by actively profiling themselves as a peace church. On the other hand the Mennonite congregations try to confront society, holding up a mirror, making the reality of The Kingdom of God visible by actively witnessing to the Peace of God in words and deeds.
References: World English Bible, 2002.