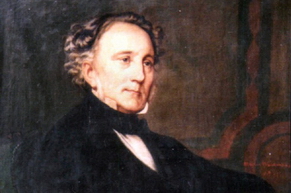 'Equal rights for all Confessions of Faith'
Author: Ulrich Hettinger
Translator: Jennifer Otto 
Hermann von Beckerath (1801) was born into a Mennonite family of weavers in Krefeld.  In 1815 he began training as a banker and within a few years he gained a leading role. Driven by a rigorous work ethic and ambition, he rose to the pinnacle of the Krefeld upper-class within two decades. Von Beckerath founded his own bank, sat as a member of the Krefeld city council, was president of the chamber of commerce and, after 1840, became one of the leading liberals in the Prussian Rhein territories.
From 1843–1845, a period of increasing political conflict between citizenry and  authorities, von Beckerath sat as a member of the Rheinland parliament.  He dealt with toll and trade issues and advocated for the legal emancipation of Jews and dissidents, and for liberal reforms within the Prussian state. He became particularly popular through his debates during the first united session of the Prussian parliament in 1847, where he vehemently supported the proposal  for a constitution for all Prussians. 'My cradle stood on my father's weaving stool':  with these famous words he confronted the Prussian nobility in parliament. Like the other representatives of Rhenish liberalism, von Beckerath stood for a liberal restructuring of the Prussian monarchy into a constitutional monarchy.
After the revolutionary events of March 1848, von Beckerath became a member of the Frankfurt National Assembly and also served as Finance Minister. He advocated in favour of the establishment of a German democratic republic, without Austria, under Prussian leadership. When the Prussian king finally refused the Kaiser's crown designated for him, von Beckerath, deeply disappointed, resigned from parliament. After the revolution, he remained a member of the Prussian House of Representatives until 1852.  In later years, he withdrew from Prussian politics completely and dedicated himself to business and local politics. Hermann von Beckerath died in May 1870, shortly before the outbreak of the Franco-Prussian war.
Von Beckerath's ideas and actions were shaped by Mennonite pietism, liberal-constitutional values and a deep-seated Patriotism  This is best reflected in his support of the Prussian monarchy and his appeal for equal rights for all Confessions of Faith, but also in his vehement support of compulsory military service, which he found an essential counterpart to liberal rights and freedoms, a position he reaffirmed even against the opposition of his 'orthodox' co-religionists.