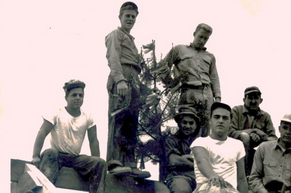 The Pax Boys – Our angels of peace
Author: Isabel Mans
Translator: J. Jakob Fehr 
'They were angels to us', said a woman who witnessed their activities. These peace angels were young men from the USA who refused to perform military service after World War II and were sent to Germany to help its rebuilding. They performed a peace service with the aid agency Mennonite Central Committee (MCC).
Love as a Philosophy of Life
Roger Hochstetler  came to Germany in 1951 to show his solidarity with the Germans. Although Germany had caused much suffering in the world, Hochstetler felt a connection to his Christian brothers and sisters in Germany. Most Americans of the time hated the Germans, but Hochstetler said 'Love was always my philosophy of life. We built houses to help the victims of war'. The Pax Boys built settlements for Mennonite refugees from Prussia and Russia and new Mennonite congregations were founded there.
Ambassadors in the Name of Christ
The Pax Boys came to Germany in the 1950s 'in the name of Christ', which is the motto of MCC. They wanted to be 'ambassadors of peace'; they lived in simple accommodations, declined wages and even paid $75 a month in order to be a part of this project. Dwight Wiebe wrote:
Peace means a time for healing, caring and repairing. ... I arrived in Europe in the 1950s, where I met 30 young Pax Boys, ages 18 to 22, who had come to Germany to put their Christian faith into action. All of them came equipped to be ambassadors of peace.
Without prior instruction or professional assistance they dug cellars and foundations and constructed houses with only basic tools. Local newspapers reported with surprise that they would build homes for strangers – their former enemies.
Tangible acts of peace
It took 5 months of work by eight Pax Boys to erect the Mennonite parish hall in Krefeld. This created a big saving for the congregation both financially and in building time. In the town of Wedel near Hamburg a parish hall and 11 duplexes were built between 1954 and 1958. By the end of the 1950s about 120 persons were living there. The Pax Boys also contributed to the youth work and helped establish the congregation in Wedel. They were a visible sign of peace in a landscape that had been destroyed by war.