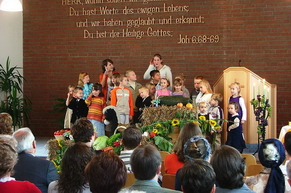 Congregational Life
Author: Johannes Dyck
The congregational life of Russian-born Mennonites in Germany in many aspects still follows the traditional ways that existed in Russia before the times of persecution. Every Sunday the congregation gathers for one or two services. The order of a usual service is simple – three short sermons are combined with singing of the choir and the congregation. The sermons are delivered by preachers of different ages and spiritual experience. The number of preachers in one church can reach several dozens.
Continuation of preaching
This tradition comes from the Pietistic revival meetings in Russia which started in the 1840s, when several participants shared their testimonies. In the early Mennonite Brethren church, the existence of many preachers in congregation soon became a tradition. Involvement of many brethren made all of them active in proclaiming the Word of God and gave additional strength to spreading the gospel. In the post-war revival that occurred in times of severe suppression, having a  big number of preachers was the best way to survive – when the leaders were deported or even imprisoned, there was always a new man to replace them.
Themes and singing
Following the old Pietistic tradition, the main content of a sermon is encouragement in faith. Often, preachers make calls for repentance, conversion and getting born again. Popular themes are discipleship, holy life and separation from the world. These themes are also the focus of regular prayer and Bible study meetings. An important part of the Russian-born Mennonite piety is singing. In times of persecution, when no Bibles were available, Christian songs could easily be memorized and shared amongst the persecuted. Often they were the only way for single isolated persons as well as for small groups of getting comfort and strength in faith. For many young people, German spiritual songs were the way to start to learn German. An important place in the church service is also given to choral singing.
Relationships and meetings
The congregational life is not limited to worship services by far. It expresses itself by close personal relations between church members. This model for closeness and intimacy of church relations was established long ago, through colony life in a rural setting when fellow church members were also neighbors living in the same village. An important part of congregational life are closed members' meetings. Here baptismal candidates tell about their faith, and church discipline is practiced; here issues of common moral standards and witness before the world are debated; and here important decisions are made.