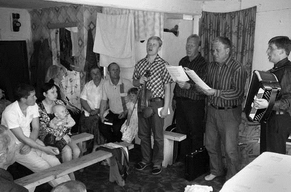 Responsibility in Society and World
Authors: Hermann Heidebrecht, Johannes Dyck
Russian-born Mennonites didn't have the possibility to conduct official mission or diaconic work. Soon after their new beginning in Germany, many Mennonite congregations established their own missionary projects in Germany and in different countries in the world. There are church planting projects in Germany (often in the new federal states) as well as in the countries of origin: Russia, Kazakhstan, Kyrgyzstan, Ukraine, Moldova, and other countries of the former Soviet Union. Later, many projects in South and East Europe (Romania, Bulgaria), Latin America (Brazil, Bolivia, Mexico etc.), Africa (Kenya, Ethiopia etc.), and other parts of the world were added. In addition to church planting, several churches support schools and orphanages.
The mission work of Russian-born Mennonites is done through their own newly created Mennonite organizations. Sometimes, missionaries are sent to work through other German or international mission societies.
Schools and diaconic social projects
In the last few years Russian-born Mennonites have launched several private denominational-based schools or worked together with Christians of other confessions in establishing these. An example is the Christian School Association Lippe (Christian Schulverein Lippe e.V.) which operates several schools in Detmold and its vicinity with more than 2.300 students and 200 teachers.
The importance of school projects of this kind for a successful integration of Germans from Russia into German culture was recognized by the governmental structures at different levels.
Museum of History of Culture of Germans from Russia
The founder of the Christian School Association Lippe and of a school in Detmold, Otto Hertel, a former physics teacher from Kyrgyzstan, had a strong understanding of the role of history in the formation of people's identity. From the first days of the school, he prepared several expositions on Germans in Russia, and gave lectures on their important role in Russia's culture and science. In 1996, a museum got a permanent place in a small building on the school campus. In addition, Hertel donated his books to the museum, as the start of a library with a special focus on Germans and Mennonites in Russia.
In July 2011, the museum was re-opened in a new building with an impressive exhibition covering the history of Germans in Russia from their very beginnings there until their re-immigration to Germany and their integration into society.
See more about the museum on the Internet (http://russlanddeutsche.de/).