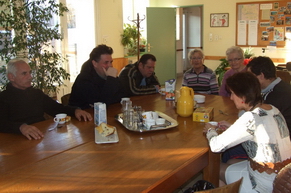 The Prairie Welcome Centre
Author: Daniel Widmer
The Montbéliard district includes Sochaux, where the original French Automobile manufacturer Peugeot is situated. Forty years ago it had a staff of 40.000 but now that's only 11.000. Unemployment in this area is high and many people find themselves in difficult circumstances.
To help out, the Montbéliard Mennonite church, especially under the leadership of Etienne Klopfenstein, took the local people in difficulties to their hearts. Initially volunteers spent the night with the homeless in a State Social Centre or helped the Salvation Army to offer hot lunches.
Creating a Centre
The church members quickly realised this was insufficient, and a new idea started to circulate; create our own Centre to accommodate some of these homeless, mainly unemployed people. An abandoned dairy was purchased in 1994 and completely restored by both building firms and volunteering church members. This Centre, situated near 'la Praire' (the Mennonite Church in  Montbéliard), is named after  the neighbourhood where it is situated. The Centre was opened in 1996, offering 26 residents temporary accommodation in studios for one or two people. The management committee was chaired by Etienne Klopfenstein until his death in 2012. One salaried staff member provides a permanent presence, and another, working with the social services, helps the residents find appropriate accommodation normally in around 6 months.
Testimony
Each weekday from 2 – 5 p.m. in the Centre's large meeting room, volunteers bring cakes and coffee and provide a friendly atmosphere in which residents can relax and share their problems.  Lionel, a past resident, but now a member of the Mennonite Church in Montbéliard shared this testimony with the members before his baptism in 2013:
I left home at the age of 18, as I wanted to live my own life. I found a job and at the beginning everything seemed fine. Unfortunately due to bad company, I became a drug addict, lost my job and found myself unemployed on the street for three years. [... ] Two people from the Centre befriended me and gave me a gospel [...]. One of the centre's weekly visitors read the Bible with me and taught me about God. I then realized that there was a solution to my aimless life. God loves me as I am: this is revolutionising my life.