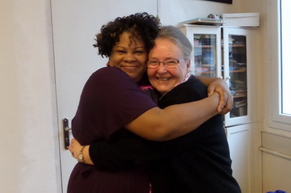 Welcome to the church
Authors: Madeleine and Bernard Huck
Translator: Louise Nussbaumer 
I was encouraged by one of my friends to come to a Sunday worship in this Mennonite assembly. I am an African woman, I don't know many people and am living in a difficult family situation. My husband has no stable job and this makes him nervous sometimes. I have five children; the youngest is a very small girl. And my oldest sons are a cause of concern.
As a church, we quickly loved this woman and shared her burdens. We gave her a paid job, maintenance of the premises.  Her home life  is hard ; her husband is violent;  Sometimes she escapes her home and spends the night on the church floor. 'At least, I have peace here', she said later.
We took care of her youngest daughter when she was away on a trip to see her family.
She is a regular at Sunday worship and attends the women's group. She drinks in the Word of God which acts in her heart and the grace of God transforms her little by little.
Her family life is better now, after the police intervened, and her husband has now calmed down once for all.
She has won hearts in the church. When someone is ill, she is worried; she chooses the verses which go straight to the heart of people. She calls up to ask for news.
Our church has nominated her for the post of deacon and she accomplishes her role perfectly.  She says that I am her 'bosom sister' and it is indeed what she is to me.
An acquaintance of mine who knows her well enough confided to me that one Sunday, as the Holy Communion was being distributed, this sister approached to give her the bread and the wine. She was deeply moved.  To God alone the Glory !
This testimony might suggest that to welcome, to integrate, to support and to induce growth throughout the years requires great art. In fact, it is very simple. You must have a heart full of compassion. Compassion is not pity, but love. Something natural, which runs smoothly, which doesn't ask questions. But above all, there is the power of God, the  'Fixer of the breach', the One who raises and gathers. The Father who makes sure his children, albeit different from one another, are able to welcome one another, understand one another  and love  one another.