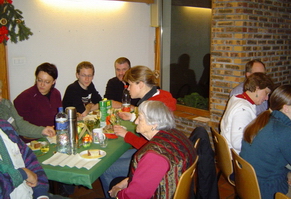 Celebrating Christmas Together
Author: Paul Hege
For someyears, the Mennonite Church of Strasbourg has participated in 'Vivre Noël Ensemble'. This eventallows us to put ourfaith in action at the service of ourneighbor, to renewour vision on Christmas, to team up withothers and be active in our city.
Togetherness
Eachyear, 15 to 20 people fromourchurchchoose to spend the night of December 24th togetherwith about as manyguests, people on the marginswhootherwisewould have a verysad and lonely Christmas. None of us regret thisexperience. Somedepict the delight of a different Christmas thatis more turnedtowardourneighbor and enriched by the spontaneous contributions of ourguests. Others are grateful for the richness and depth of conversations withourguests, despite the languagebarrier, sometimes; some contacts continue and evenbecomefriendships. Many point out thatthiskind of time allows us to becomeaware of the needs and povertythatweoften come across on the daily basis withoutseeingthem.
For the church, itis a beautifulproject in whicheachmemberfindstheir place, couples and single people alike, children and parents, and older people. We encourage eachmember to participate and we notice thatmany are ready to do itagain the followingyear.

Ecumenical
'Vivre Noël Ensemble' wasinitiallylaunched by a solidarity Christian institution. Today, itis an organisation in whichvarious Christian and non-Christian associations and severalchurches are involved, and with the support of the City of Strasbourg, they help about 300 marginalized people to celebrate Christmas in dignity.
They are welcomed by the differentpartners, each in their venue, according to theirmeans. The cluster isresponsible for the meal, the gift for everyguest, and the dispatch of guests to different venues: thus, the different host teams focus their attention and energy on an entertainingwelcome. The organisation alsoorganizes a friendly time downtownunder the tall Christmas tree, whichstarts off the feast, with hot drinks, pastries and music: in this place the guests and the hosts meet up before the groups separate and the party goes on in different venues.

As a smallchurch in ourbig city, we are verypleased to have foundour place in thisproject, whichwasinitiated by Christians and thensharedwithothers, and webelieve,  throughit, our Lord ishonored in Strasbourg.