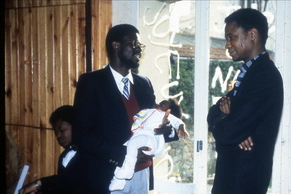 'Foyer Grebel'
Author: Neil Blough
Because of France's colonial history, tens of thousands of French-speaking Africans come to study at her universities.  As a continuation of the collaboration between French and North American Mennonites in Paris, a welcoming centre for African students, the 'Foyer Grebel', was founded in Saint Maurice in 1977. Dutch and Swiss Mennonites soon joined the project, which became an interesting example of missionary partnership.
Cross-cultural
The Foyer offered temporary housing and assistance with looking for the stable conditions necessary to study.  Foyer staff members quickly became acquainted with the social and economic difficulties of the students.  How could such problems be solved? How could mistrust between the North and South be overcome?  The Foyer became a meeting-place of mutual learning.  Sunday evenings became a time of a shared meal and cross-cultural sharing.  New relationships, cross-cultural bridges were born from being together, mutual discussion, sharing one another's cooking, and a common search for solutions to problems.  All of this helped those involved to learn about compassion and justice.  For many, this was the first occasion of real sharing with the "Other": black, white, European, African.
The merciful
Many of the African students were Christians and did not always feel welcome in Parisian churches.  Some of the meetings became occasions for Bible study, singing and prayer.  New ways was of doing things were sometimes puzzling, but always a source of enrichment. Out of these meetings a multicultural congregation was born , hungering for new relationships among people of different origins.
The Gospel calls people to compassion: 'blessed are the merciful'.  In this case, those who wanted to be 'compassionate' often learned what that meant from those who were to be 'helped'.  The Foyer Grebel helped Mennonites to discover the world of foreigners in Paris.  It helped those who worked there to learn about cultural differences, colonial history and its legacy.  It was also a means to discover the global Christianity that was taking shape outside of Europe.
Multicultural heritage
An even bigger centre was built in the neighboring city of Maisons-Alfort. Temporary housing was offered until 1998, when an urban renewal project forced the closing of the project.  The Foyer Grebel nevertheless gave birth to two 'children' who still survive: the Foyer Grebel Christian Community, which has become the Mennonite Church of Villeneuve le Comte, and the Paris Mennonite Centre, started in the original facility in Saint Maurice when the Foyer moved to Maisons-Alfort.  The multicultural heritage of the Foyer Grebel lives on, as a constant appeal for compassion and justice among peoples.