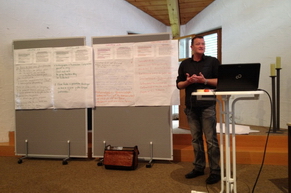 Mennonites – Traditionally modern with values that last?
Author: Beate Zipperer
Translator: Anne Zipperer
When children enter kindergarten, or at the latest when they start going to school and want to attend religious class, their families will have to start explaining things. Especially in Bavaria where most people are Roman-Catholics, Mennonites are considered quite exotic. When you explain who Mennonites are, or what is special about them, you start to rethink the standards and values of this denomination.
A family?
To be a Mennonite is basically passed down within and through families. Are we therefore a 'family church'? Does the Mennonite church structure change slowly? Traditions only last if you fill them with standards and values. Those are established only through statements from Jesus Christ. These standards and values were also influenced by early Reformatory ideas that apply to other Protestant churches as well. In short, they are:
Sola Scriptura – the Bible is the only foundation of our faith (Galatians 2:6-9)
Solus Christus – only Jesus Christ has authority over believers (Ephesians 5:23-24)
Sola Gratia –Only through mercy can humankind be saved (Romans 1:17)
Sola Fide –Only through faith is humankind justified (Galatians 2:16)
Guidelines
Many churches have guidelines about faith and life. Those get adapted, adjusted and extended. Churches are living organisms, with people who seek God's promises, which are fulfilled by the Holy Spirit. In summary, at our local congregation the guidelines are:
Live faith: At the core for us is the God as he is described in the Bible, this is the reality of God we experience. To live for that is the meaning and the mission of all Christians and churches;
Live faith: turn towards the other. Jesus Christ shows us God's love and His way of living in many different ways. To us He is unparalleled in importance. We want to follow him.
Live faith: experiencing God's work in our daily life and giving it the space it deserves.
Through the Bible God talks to us directly. The Bible, as we understand it under the guidance of the Holy Spirit, is the guideline for our life and our teaching. This requires, time and again, our willingness to listen to God and to each other.
Live faith: together we create church life and take responsibility
Appropriate to our gifts and possibilities we involve ourselves in the life of the church and are part of the testimony of Jesus Christ.